Credits to http://suga-kookiez.deviantart.com/ for http://orig14.deviantart.net/329a/f/2017/192/a/c/strawberry_ice_cream_divider_by_suga_kookiez-dbfxcnj.png

And credits to http://sweetnessi.deviantart.com/ for http://orig08.deviantart.net/d782/f/2016/150/f/f/ice_cream___divider_by_sweetnessi-da4djfx.gif

And credits to Negatori for my banner > http://userimages-akm.imvu.com/userdata/95/43/88/33/userpics/Snap_OqsQPL3Aw1347041785.gif
Heyo cuties! Here's my freebie's shop!
Trying to make it look nice and cute, and give you all some options to choose from c:
Please understand I don't make any gurantees in this shop, I choose what inspires me, especially now because art block :c
I appreciate the patience of you all in this shop, you don't understand how helpful it is!
Loves and hugs!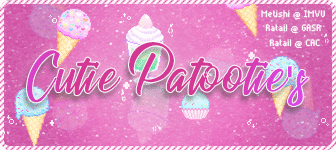 Rules:



☆ No THEFT is tolerated.
☆ Please do understand this is a FREE shop, that means I may or may not accept your order.
☆ Please inspire
☆ Do NOT rush me.
☆ I love creative OC's
☆ I can't stand it when I'm given too much information for a 160 x 220 canvas ( Standard DP size ) , So please understand that everything may not be in it if you have a lot of refs. I fit what I can.
☆ I do test animations, I will ask for suggestions, but that doesn't mean that I'll do them.
☆ I prefer OC's, but if you give me SCREENIES I may accept if I like them.
☆ OC's tend to come out better than screenies due to their own creativity, keep that in mind if ordering with a screenie.
☆ I know there are many rules, but this is to just help me out as an artist, so please don't feel intimidated by them.
☆ Any questions, ask it's all good.
☆ Please don't give me unorganized OC's. If you want something specific, state it. It helps me AND you.
☆ Alright, let's get crackin!
☆ Be nice to each other, no one likes a meaner.



☆  Will add more rules if needed. ☆


I have 4 different options I draw in, here they are. You may request a style / bust / body, just understand I may change it due to the OC, or how inspired I feel.
Examples:
Style 1:Style 2:Busts:Body:
Form:

Form:

Style:
Screenies/OC's:
Text: ( NO TEXTLESS )
Animation ideas?: ( Be lenient with these and ONLY fill this out for style 2. )
Extras?:


_________________

Chef




Ratail

IMVU

: Metishi



Chef




Ratail

IMVU

: Metishi



Form:

Style: 2
Screenies/OC's: Heree
Text: Allen ♥ Rolan
Animation ideas?: Both blinking if possible
Extras?: Have Rolan have a cheeky smile
_________________
| Freebie Shop | Premade Shop |
- By Abel
PM or tag
@
Arcanimus for pickups.
Style: 2♥ Couple if possible?
Screenies/OC's: Clicky!
Text: Korey & Rachel
Animation ideas?: Both blinking, me blushing. (I am the girl LOL)
Extras?: I adore your art. Here is a pose idea though I am open to anything else Click . Nothing else extra have fun with the ocs!
Cast

IMVU

: hml & Cast & Onesie



Style: 2 please
Screenies/OC's: click <3
Text: Tekk
Animation ideas?: eye sparkles ?
Extras?: I'd love if you'd try Yuko or Saccharine, but if not , any oc you pick will be perfect i'm sure . c:

thank you for your consideration
Tekk

IMVU

: Tekkl



Similar topics
Permissions in this forum:
You
cannot
reply to topics in this forum